VANDYCK PRODUCT RANGE
Within the VanDyck product range we distinguish VanDyck RED, GIN and VODKA. Each brand has got it's own color pallet. When the bottles are placed in line, you'll notice the dutch tricolor…
With VanDyck RED, GIN and VODKA, you'll enjoy the finest gin and vodka beverages available. All due to our secret recipes which go back to 1867.
We emphasize the essence of an ingredient in a distillate. If you smell an orange distillate, then it is also really Orange in its purest form. Other botanicals such as Cardamom, Juniper Berries and Vanilla make a balanced mix so you can enjoy a delicious product. Flavour VanDyck GIN with several botanicals and garnish to mix your own favorite taste.

GENERAL PRODUCT CHARACTERISTICS
100% Dutch product • Extremely clean and soft distillate • Unique style 70CL bottle • Recognisable label • Image of the Dutch Lion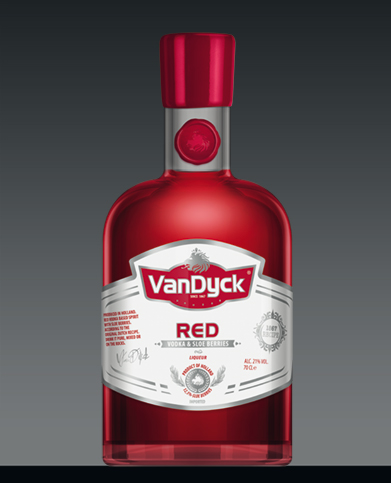 This refreshing and tasty red vodka is based on the VanDyck VODKA and Sloe Berries. Sloe berries have a strong and fresh tasting experience.
This premium red vodka, has a lower alcohol content than the white vodka and is a lot sweeter in taste. In the distillation process of Blackthorn Berries and Grain Alcohol is the main ingredients purified water, what a reversed osmosis treatment has undergone. The berries grow only in the northern hemisphere and are at the end of autumn/early winter picked. These berries should have been frozen for its correct taste. For the distillation process have the berries to macerate in alcohol are 6-8 weeks. The fruits have a very high content of fruit acids, flavourings and vitamin C. The fruit of the Blackthorn were used over the centuries to make you stronger. Blackthorn is particularly vitalising and helps during the winter against fatigue, reduced resistance of the immune system and against fatigue.
– FLAVOR –
This premium VanDyck RED is fresh flavored and contains Sloe Berries.
– CONTENTS –
ALC. 21% VOL.
• Sloe Berries
• Grain Alcohol
• Reverse Osmosis Water
– COMBINE WITH –
Serve this VanDyck RED with Gingerbeer or Ginger Ale and a half squeezed Lime.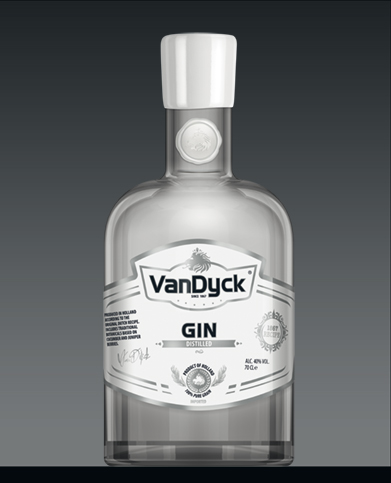 VanDyck GIN is a fresh and very soft premium gin and based on Dutch Cucumber and Roses. VanDyck GIN is a distilled premium dry gin, at the end of the distillation process, 8 additional herbs added which results in the wide taste range. Each herb is separate 4 x distilled with grain alcohol to an alcohol content of 73% and then brought by Reversed Osmosis water on drinking strength. The following herbs are added during the distillation process: Cardamom, Coriander Seeds, Angelica, Vanilla, Orange, Lime, Licorice and Iris Root.
– FLAVOR –
This premium Dutch VanDyck GIN is a fresh and very soft distilled gin based on 8 ingredients which distinguishes it's from the other GIN's. The fragrance is light and very pleasant with a pleasant aftertaste.
– CONTENTS –
ALC. 40% VOL.
• Juniper Berries
• Cardamom
• Coriander seeds
• Angelica
• Vanilla
• Lemon
• Orange
• Liquorice
• Iris Root
• Grain Alcohol
• Reverse Osmosis water
– COMBINE WITH –
VanDyck GIN is easy to mix with, Orange, Lime and Cucumber and can be served with a Mediterranean, Grapefruit or Elderflower premium tonic.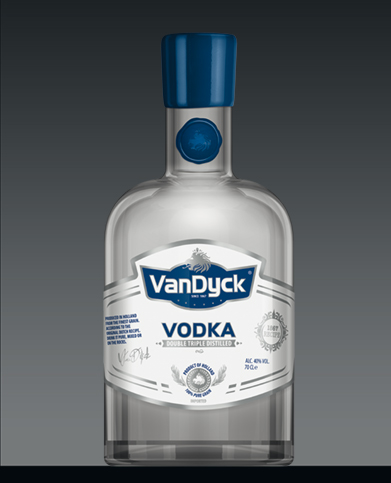 VanDyck originaly started with VanDyck VODKA. It's a clear and neutral premium vodka, distilled from 100% Dutch finest grains. The multiple distillations produces a premium vodka which is round and has a soft taste. Vodka descended from the medieval word meaning water.
– FLAVOR –
The white variant of the VanDyck VODKA is a pure Dutch Vodka of excellent quality. Made of 100% Dutch Grains, Grain Alcohol and water that had undergone a reversed osmosis treatment to purify the water. The vodka is 6 times distilled, therefore VanDyck VODKA is soft and has a round flavor.
– CONTENTS –
ALC. 40% VOL.
VanDyck VODKA is a premium distilled vodka in which the following ingredients are used: 100% Dutch grains and Reverse Osmosis water.
– COMBINE WITH –
VanDyck VODKA can be served with a Grapefruit- or Elderflower premium tonic.
VANDYCK GIFTSETS
Are you looking for an original gift set for your employees and / or relationships? Surprise them with one of our premium VanDyck gift sets!
We can offer you our wooden or cardboard sets, each with it's own composition.
If you are interested or in need for more information contact us!
VANDYCK BOTANICALS BOX
VanDyck is introducing the Botanicals Box to flavour your gin or vodka! The box contains four botanicals : Cardamom, Hibiscus Flower, Juniper Berries and Rose Petals. It's is completed with a spoon and a easy mixers jigger.
Nice to know is that you can easily create a counter display by folding the cover! This way you can also spice up your business…
VANDYCK PERFECT SERVE
We want to make sure that you fully enjoy your VanDyck. That's why we offer you our basic Perfect Serve tips for each product.

VANDYCK RED & GINGERBEER
• 1 x Copa glass
• Fill the glass with big ice cubes
• Add 50ML VanDyck RED
– BOTANICALS –
Sloe Berries, Squeezed Lime
– PERFECT WITH –
Ginger Beer or Ginger Ale

VANDYCK GIN & TONIC
• 1 x Copa glass
• Fill the glass with big ice cubes
• Add 50ML VanDyck GIN
– BOTANICALS –
Orange, Cucumber, Lime, Juniper Berries and Cardamom
– PERFECT WITH –
Pink Grapefruit soda, Indian-, Elderflower premium tonic

VANDYCK VODKA & SODA
• 1 x Copa glass
• Fill the glass with big ice cubes
• Add 50ML VanDyck VODKA
– BOTANICALS –
Two parts of Grapefruit
– PERFECT WITH –
Pink Grapefruit soda

MAKE YOUR VANDYCK SPECIAL, MAKE ONE OF OUR EASY MIXERS
Our gin and vodka mixers are pure delight. At the moment we are shaking hard to complete our comprehensive list of easy mixers. We want to give you a sneak preview of the list which will be published soon…

FLAVOUR YOUR DRINK WITH VANDYCK BOTANICALS
If you are in for something new, try our botanicals. VanDyck is introducing this sensation to The Netherlands. Botanicals are available in the above mentioned flavours.